We at Peak are builders. 
In the simplest of terms, we primarily build places where people live; hotels, apartment complexes, student housing, retirement homes, etc. 
We have done so through a process we call Do it Together Development, comprised of four main tenets: 
But the first and most important thing we ever built was a set of core values upon which this company and its reputation sits. Those values allowed us to then build a team of experienced leaders who come from a wide variety of backgrounds, but who all share one thing in common: a dedication to upholding and embodying Peak's core values. 
Using those values, our team has been able to build so much more than just "places where people live." We build relationships, first amongst each other, then with our external vendors and partners, and then with the communities whose residents our buildings house. 
In this series of posts, we will dive deep into each of Peak's core values, and examine how they inform and inspire us to make good on the promise of our company's mantra: Together to the top. 
We continue this series by examining a core value, deeply rooted in the spirit of that mantra: Collaboration.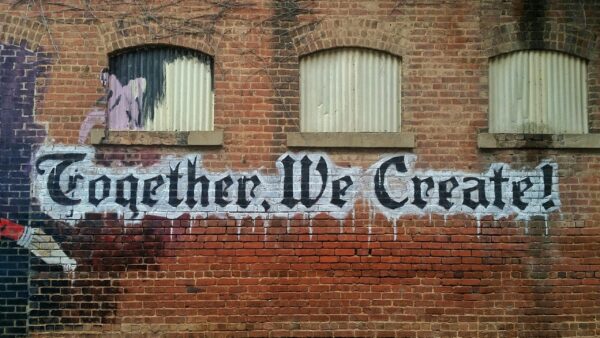 Collaboration is the backbone of who we are and how Peak runs. Without it, we simply do not succeed.
There are two main components from which collaboration is born: communication and availability. In order for there to be true collaboration, everyone involved needs to feel comfortable being honest and open with their collaborators. In order for that to happen, though, everyone must make themselves available to do so. 
We find that happening here all the time, and among people at all levels and across all disciplines. There are many times when the going gets tough and an individual will ask for assistance, and the whole team shows up as needed to help move the situation forward. It is not uncommon to see senior leaders like Lee, David, or Charlie jumping in to help one of their direct reports put together a pre-construction schedule. In addition to many hands making light work, bringing fresh eyes to a situation also allows a better question to be asked or to help see around a corner that we may have previously been blind to. 
Collaboration is evident in every step of the construction process, from pre-construction, right up to the opening of a new building. But perhaps the most shining example of collaboration at Peak is our estimation process, particularly around bid day. 
Bid day is crunch time around the office, but everyone rallies together to rise to the occasion. There are many moving parts and a lot of different things need to occur in order to pull a bid together. 
On bid day, the entire team is working together, checking proposals as they come in, matching up scope, making sure that pricing is right, and providing the estimators with the best information to support the most competitive price at the right time. 
The camaraderie and the collective sense of purpose that is displayed during bids has been inspiring and is always a lot of fun to watch. It is truly a sight to witness when all members of the team are rowing in the same direction, and the results have proven it. 
If Peak is a machine, collaboration is the oil that fuels us and keeps things moving freely. It is through collaboration that projects take shape. And, it is how we are able to deliver them on time, on budget, or better.